"Our mission is to provide customers with affordable, unique products aimed at solving high solids filtration challenges. Spiral Water provides unique, compact packaged filtration and concentration solutions not previously available to industry. We are 100% committed to our partners, and together we will help customers around the world meet their most challenging, high solids, water reuse and recovery goals."
– Gerard Lynch, President and CEO, Spiral Water Technologies
Filtration and beyond
Spiral Water Technologies develops and markets high performance products for advanced high solids filtration and concentration applications. Sophisticated in engineering yet elegantly simple to use, these products utilize our patented technology to deliver superior results while reducing CapEx and OpEx to deliver low Total Lifecycle Cost.
Modular and scalable, our filters can be used as standalone products or to complement existing filtration technologies for high TSS filtration and solids concentration, backwash filtration, or prefiltration for existing automatic filters or smaller skid systems. In addition to filtration, our products are ideal for solids separation in industrial processes as well as food & beverage processing where they can eliminate the need for large and expensive equipment and maximize the recovery of valuable products.
Today, Spiral Water products are delivering breakthrough performance in some of today's most demanding applications, including water reuse and recovery; pre-filtration for DAF, MBR and RO/UF; industrial water filtration; and concentration of valuable or resalable product from non-hazardous wastewater.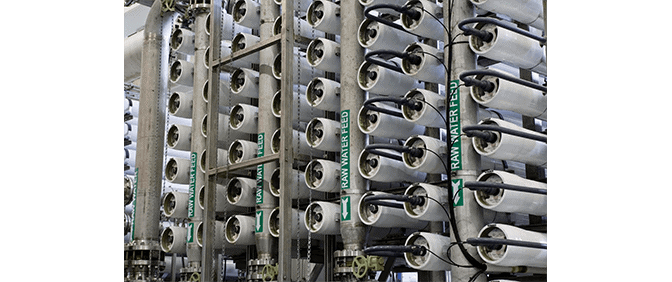 From coast to coast…
Spiral Water was founded in 2012 with a vision to develop a revolutionary automatic self-cleaning filter specifically designed to address the issue of high and variable suspended solids removal across multiple industries. Originally based in the San Francisco Bay area of California, USA, Spiral Water introduced its initial product in 2015.
In 2018, the company was restructured with the goal of refining its existing products and technology and developing the next generation of its revolutionary filters. As a result, its operations were consolidated at a new global headquarters in Middlesex, New Jersey, USA, which features a world class laboratory for research & development, engineering and product testing, as well as state-of-the-art facilities for manufacturing and product assembly.
Spiral Water is led by President and CEO Gerard J. Lynch, P.E. Bio Here
…to global connections
Spiral Water has an established a global presence as a member of the prestigious Institut de la Filtration et des Techniques Séparatives (IFTS – International Filter Testing Services), an independently regulated, ISO 17025 accredited, laboratory and research center and the world's leading organization dedicated to solid-liquid separation. Based in the Aquitaine region of France, its operations include the Roger Ben Aïm Test Center, a renowned research and experimentation station that assesses the behavior of pilots and industrial equipment on real waters with different characteristics.
Through this affiliation, Spiral Water works hand-in-hand with global filtration manufacturers as well as other water systems and filter manufacturing firms as marketing and commercialization partners to apply its technology to new applications and help solve challenges that have plagued the water industry for decades.
Gerard J. Lynch, P.E., President and CEO
President and CEO of Spiral Water Technologies, Gerard Lynch has extensive experience in filtration and separation technologies and advanced testing techniques with more than 30 years in filtration testing, design engineering, and manufacturing operations. He has served as President of IFTS International Filter Testing Services, Inc., USA, an independent, non-profit center specializing in filtration and separation science, research and testing. Headquartered in Agen, France, IFTS provides laboratory and consulting services to industry with a world class management team comprising scientists, engineers and technicians in the field of Solid-Liquid Separation. Mr. Lynch has been a member of the American Filtration and Separations Society (AFS) since 1988. He served as the AFS National Chairman for 2006-2007, and has been an AFS board member since 1999.
He is also President and CEO of Sigma Design, an engineering and manufacturing resource for the development of new products and specialty systems for water treatment and marine environmental ballast water treatment, as well as complex electro-mechanical projects. Other areas of technical involvement include ASTM, Society of Naval Architects and Marine Engineers, American Society of Mechanical Engineers, and the Society of Manufacturing Engineers.
Mr. Lynch holds a Master of Science degree from Stevens Institute of Technology, and a Bachelor of Engineering degree from State University of New York: Stony Brook. He is a licensed professional engineer in the states of New York and New Jersey. He has published numerous technical articles for the filtration industry and has been awarded numerous patents.
Thank you for taking time to meet with us. It is encouraging to work with Spiral Water – people who are technically capable and a company that offers a unique product, not just another 'me, too'!"
– Channel partner
Patents and awards
To date, Spiral Water has been awarded three patents for its breakthrough technology, covering 14 countries and regions around the globe, including the USA, Canada, China, Japan, Europe and Australia.
We have also received two of the water industry's most prestigious awards for our disruptive technology: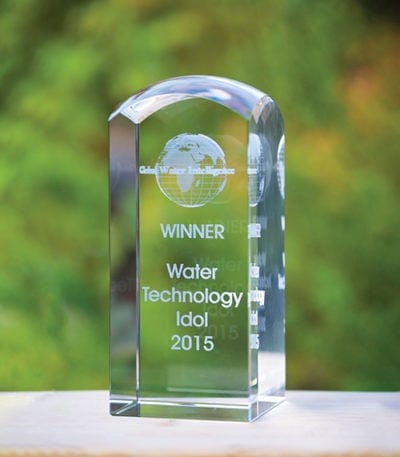 Global Water Intelligence Technology Idol Award, conferred on the early-stage company whose technology could "change the future of the water market."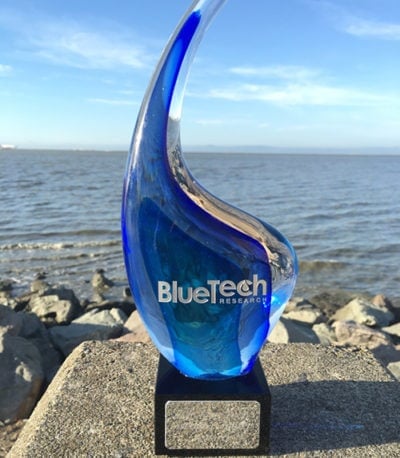 BlueTech Research Innovation Award. Presented at the BlueTech Forum, this award was presented to Spiral Water, which was selected by market intelligence experts and chosen from finalists including established players in the water industry, for its likelihood to "transform the shape of the water industry of the future."