Innovation awards winners announced at BlueTech Forum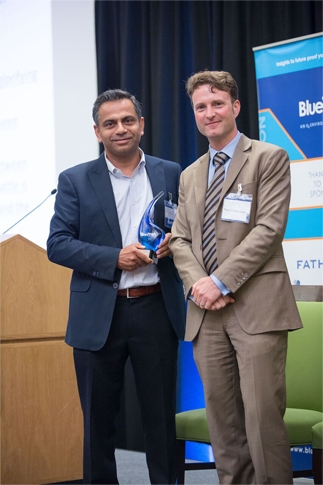 Smart Grid for Water platform wins Blue Truffle Award
Spiral Water self-cleaning filter receives Disrupt-O-Meter Award
Clever thinking can beat global water challenges, says BlueTech CEO

A meter-to-customer software and services platform and an advanced self-cleaning filter have been named as two of the most innovative technologies in the water industry today. FATHOM Water Management, Inc. ("FATHOM") from Arizona and Spiral Water Technologies of California were selected by market intelligence experts BlueTech Research as likely to transform the shape of the water industry of the future.

FATHOM won the Blue Truffle Award and Spiral Water won the Disrupt-O-Meter Award at the fifth annual BlueTech Forum, in San Francisco on 1 June. The winners, chosen from a shortlist of eleven companies, will be invited to join the Innovation Pavilion at the Water Environment Federation Technical Exhibition & Conference – WEFTEC – in New Orleans in September.

Real challenges
Chief executive and founder of BlueTech Research Paul O'Callaghan said: "Utilities and industrial users of water around the world are facing real challenges – which means it is more important than ever to take an imaginative approach to solving problems.

"Both FATHOM and Spiral Water have developed products which could have a huge impact on the water industry. FATHOM's geo-spatial Smart Grid for Water platform was created specifically for the water industry to manage every interaction between a utility and its customers, while Spiral Water have engineered a self cleaning filter which outperforms its rivals while cutting both maintenance and energy costs."

Intelligent software
FATHOM is the software-as-a-service, cloud-based data integration platform that is changing the water utility paradigm and enabling the water internet of things with its technologyagnostic way of integrating software, databases and equipment. Developed by the Arizonabased water and wastewater utility Global Water Resources, Inc., FATHOM generates value through increased revenue, decreased costs, and decreased water demand in a way that is less expensive, less risky and easier to adopt.

Through FATHOM, utilities can build sustainable, data-driven, customer-centric enterprises while managing the realities of water volatility and the increasing expectations of customers. FATHOM is already used by 4 million water customers in the US.

Trevor Hill, chairman and chief executive officer at FATHOM said: "It is tremendous to have been awarded the Blue Truffle Award in recognition of the impact big data and the FATHOM platform are having on creating more financially sustainable utilities. FATHOM was born in the water-scarce southwest United States, as a way of assuring revenues and managing budgets while addressing water scarcity and the changing needs of customers. "Created by a water utility, for a water utility, FATHOM is redefining the meter-to-customer journey and addressing the financial needs of the water utilities."

Hard-to-treat water
Winner of the Disrupt-O-Meter Award was California-based Spiral Water for its selfcleaning water filter, which can be used for hard-to-treat water and can be used on wastewater, seawater and water produced from oil processing. Originally developed for biofuel production the revolutionary design features a spiral brush, which continuously cleans the filter element. The filter can deal with a high level of suspended solids, and can reclaim more than 99 per cent of water, as well as separating solids for reuse.

Spiral Water Chief Executive Ashwin Gulati said: "Winning the BlueTech Disrupt-O-Meter Award is a fantastic confirmation of the huge potential of this technology. It has been put to use in difficult-to-treat applications – including oils, grease, high solids and food and beverage manufacture – but could have a huge range of applications for industrial users.

"Not only does it cut the energy costs for processing hard-to-treat wastewater it also offers a way to concentrate solids which can be reused."

Widespread uses
BlueTech Research founder Paul O'Callaghan said: "Both FATHOM and Spiral Water have found innovative ways to solve problems which could have widespread uses across the water industry worldwide. The BlueTech Forum was a great opportunity to take a look at some of the most inventive, clever and creative ideas emerging from around the world."

Also shortlisted for the Innovation Awards were Apana, Hitachi Pegasus, Nanospun, Oasys Water, OptiRTC, Organica Water, Pasteurization Technology Group, Water Planet and Xylem. The fifth annual BlueTech Forum was attended by leading academics, representatives of clean tech companies and water industry decision makers from around the world.

Shortlisted Innovation Showcase companies:
Apana – Predictive analytics for commercial water management

Fathom Water – Smart water and Internet of Things technology for water utility applications

Hitachi Pegasus Technology – Advanced bio-encapsulation technology for nitrogen removal

Nanospun – Next-generation biotechnology: microbial encapsulation for contaminant removal

 Oasys Water – Forward osmosis technology for zero liquid discharge in power and oil and gas

OptiRTC – Predictive analytics for stormwater management

Organica Water – Decentralized wastewater treatment and water reuse

Pasteurization Technology Group – Energy recovery disinfection system for water reuse

Spiral Water – Macro-filtration in the food and beverage sector

Water Planet – Ceramic membranes and predictive analytics for produced water reuse

Xylem – Integrated biological filter and advanced oxidation for micro-pollutant removal in potable water

Images and captions
BlueTech 1. Paul O'Callaghan, Chief Executive of BlueTech Research, presents Trevor Hill (l), Chairman and Chief Executive, Fathom with the Blue Truffle Award at BlueTech Forum.
BlueTech 2. Paul O'Callaghan, Chief Executive of BlueTech Research, presents Ashwin Gulati (l), President and Chief Executive, Spiral Water Technologies with the Disrupt-O-Meter Award at BlueTech Forum.

Press enquiries to:
Natasha Wiseman, WiseOnWater
E:
M: +44 (0)7880 502547
Issued on behalf of:
BlueTech Research
www.bluetechresearch.com
For further technical support, please contact:
Paul O'Callaghan
E:
T: +353 21 240 9133

BlueTech Research, Building 1000, City Gate, Mahon, Cork, Ireland

About BlueTech Research
BlueTech® Research provides investors, water companies, researchers and regulators with the latest information at their fingertips. The company provides clarity and critical analysis on emerging water technology market areas. BlueTech Research maps and analyses the water technology innovation landscape. The company is focused on what is changing and how new approaches, new technologies and new needs are reshaping the water technology market. www.bluetechresearch.com

About O2 Environmental
O2 Environmental is the boutique management consultancy for the water sector. O2 Environmental provides water technology market expertise to support strategic business decisions. We work with:

Water technology companies – looking for strategic acquisition and growth opportunities in the water sector
New Entrants – companies looking to enter or expand their presence in water.
Strategic Investors – Venture capital and private equity investors looking to invest in the water space.
Large water companies looking for strategic acquisition and growth opportunities in the water sector.