Spiral Water advanced high solids separation and concentration technology is engineered to solve the specific challenges of filtering ultra-high and variable total suspended solids (15,000 mg/I) from water and wastewater streams. No other automatic self-cleaning filter can perform at this level.
Spiral Water's patented automatic self-cleaning filter consists of a rugged stainless steel filter screen and mechanical cleaning device that continuously clean the screen without requiring backwash, cross flow, high differential pressure or downtime. The unique one-pass system automatically senses, concentrates and purges solids, providing seamless waste management and de-watering solutions as part of the process.
How It Works
Process fluid passes from the inside to the outside of the proprietary stainless steel filter screen.
Spiral Water's patented, motor-driven, spiral-shaped brush continuously cleans collected debris from inside the filter element.
Solids are driven to the bottom of the filter housing and stored in the chamber until they are expelled through an automatic purge valve. The purge chamber includes an agitator that keeps collected and concentrated solids fluidized, preventing any chance of packing out.
The system can operate at low inlet pressure and low differential pressure (1 psi).
Influent concentrations of suspended solids can be variable and as high as 15,000 mg/l.
No backflush, crossflow or booster pumps are required.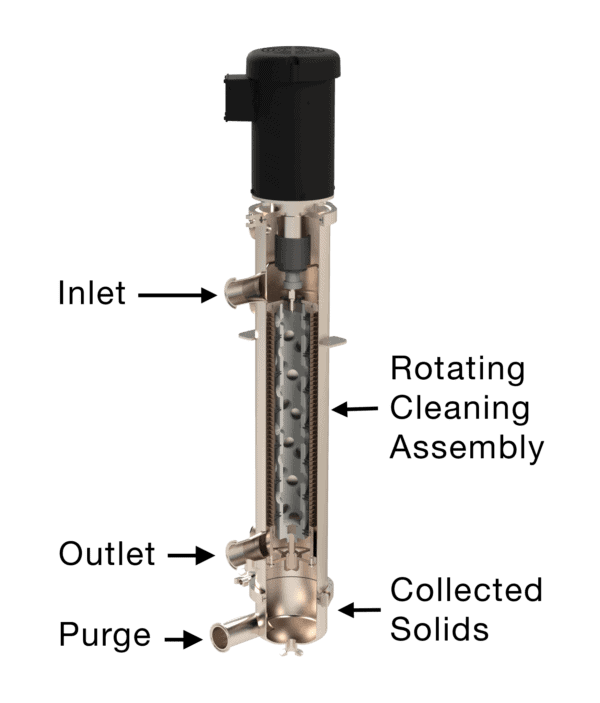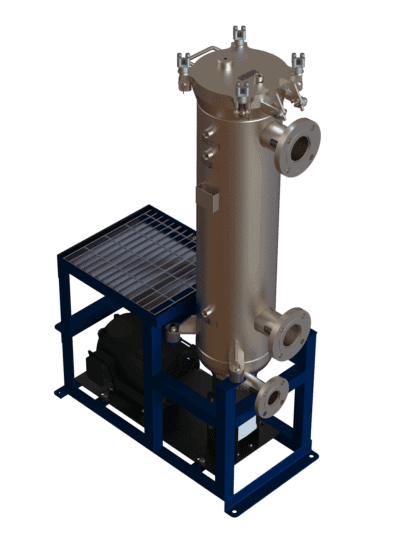 Salient Performance Features
SWT operates in high solids loading of 10,000 ppm+. In some applications where the solids are soft and fluidize well, we have seen success in up to 20% solids by volume
The purge chamber includes an agitator that keeps collected and concentrated solids fluidized, preventing any chance of packing out
Our proprietary controls use "solids sense technology" to trigger self-cleaning purges in variable solids loading conditions
When properly sized, the SWT filter operates at constant differential pressures (DP) less than < 1psid
SWT operates effortlessly at pressures as low as 5-10 psig – no pulsing
The Model 800 performed very well, without interruption, in taking a first cut at reducing TSS levels, which were typically in the 1,000 mg/I range. The significance to our overall system operation was that we could process water at a faster rate through the DAF and UF than we would have otherwise been able to do."
– Oil & gas water system integrator, New Jersey